DRAIN - WATER - GAS & SEWER EXPERTS
WELCOME TO NEW PRO PLUMBING & ROOTER
New Pro Plumbing is a family-owned and locally-operated company that has been providing personalized and affordable plumbing services in Los Angeles and the surrounding areas. We are your go-to provider for all your residential and commercial plumbing services. All our plumbers are licensed, insured, and highly trained to handle any plumbing service or repair job, big or small. We pride ourselves on our fast response, professional service, and customer satisfaction. We use the most advanced technology available in the industry to offer you exceptional services and value for the money. Our upfront, flat rate pricing model ensures that you know exactly what you are paying for ahead of time.


Fast and Reliable
24/7 Emergency Plumbing Services
We know that plumbing issues can transpire anytime throughout the day. That's why we provide 24/ 7 emergency service so that we can attend to your call no matter the time of day or night. Even if it's late at night, don't hesitate to give us a call. Our plumbers are always on standby so you can expect the same great service no matter what time you call.
PLUMBING SERVICES LOS ANGELES
PLUMBING SERVICES LOS ANGELES
We Are Your Most Trusted Plumbing Professionals
If you're experiencing plumbing problems, you must act quickly. At New Pro Plumbing, we are available 24/7 to help you fix your plumbing issues and restore your property to normal. With more than 10 years in the industry, we can handle all your plumbing needs. From emergency plumbing services to water heater repair, to routine drain cleaning, our licensed and certified plumbers have seen it all. We use the most advanced techniques and cutting-edge technology to offer you superior services.
When you call New Pro Plumbing, you can have the peace of mind knowing you're receiving top-notch quality plumbing services from certified plumbing experts. Our plumbers are fully background checked and drug tested for your safety. We are proud to offer high quality plumbing services at affordable rates. As a professional Plumbing Company in Los Angeles, CA, we have the knowledge and understanding of what it takes to get the job done right.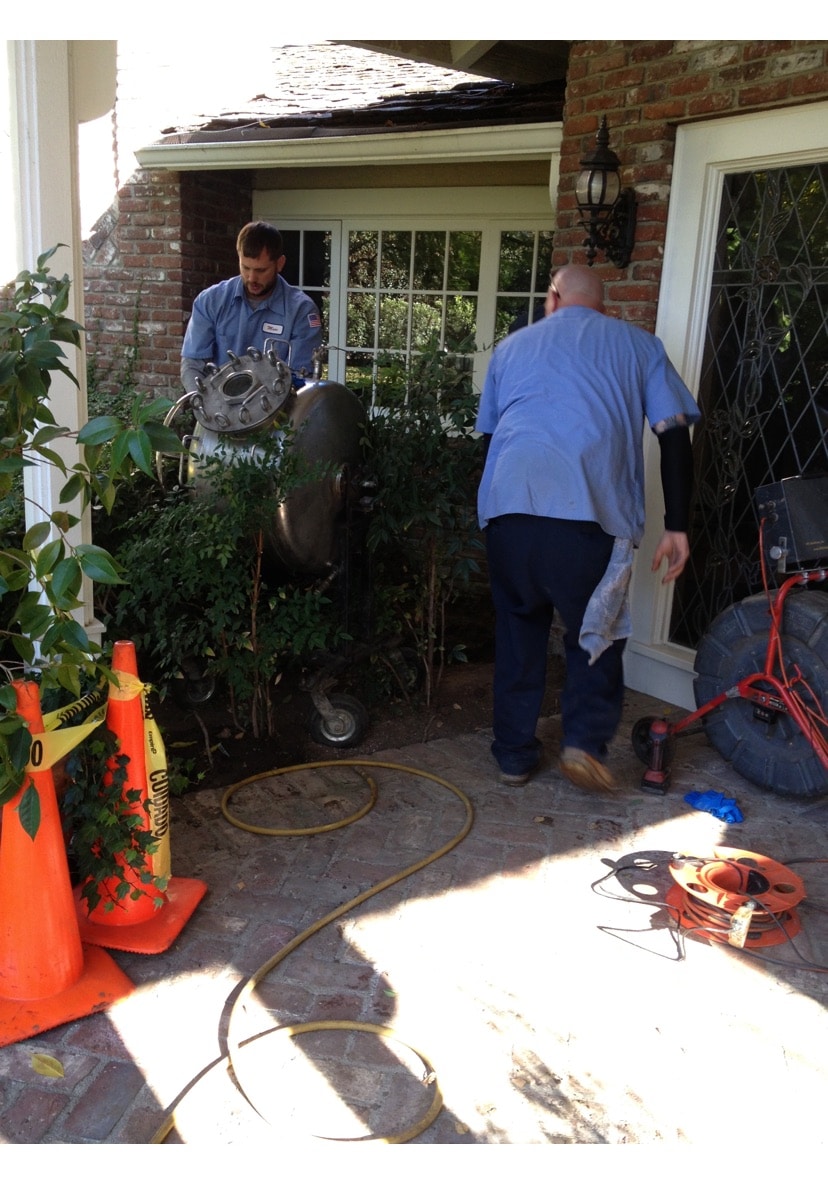 What Do Our Customers Say.
Miguel is professional, honest, pays attention to detail and leaves no traces. Finding a good and reliable plumber can be difficult - I'm so glad I came across New Pro Plumbing. I will most definitely be reaching back out to Miguel for future services. And I would highly recommend him to anyone.
New Pro Plumbing is an excellent plumbing company. Miguel Lopez is very professional and explained my water heater problem in very simple easy to understand terms. The costs for services provided were very fair. He also provided me with additional tips on how to extend the life of my water heater as well as how to save on gas flow during warmer months free of charge. I would highly recommend New Pro Plumbing to anyone in need of a good honest plumber. I will be using their services again. Thank you
I hired Miguel to fix the mess that another plumber made when trying to install and connect a gas line for a fire pit. He was quick to respond and was very professional throughout the project. He showed up on time and took the time after he project to explain what he did. Thank you Miguel!
Shannon S.
Los Angeles, CA
Miguel is professional, honest, pays attention to detail and leaves no traces. Finding a good and reliable plumber can be difficult - I'm so glad I came across New Pro Plumbing. I will most definitely be reaching back out to Miguel for future services. And I would highly recommend him to anyone.
We had a sink stop up that, despite our best efforts, couldn't be solved alone. So...I found Miguel via yelp and relied on the other great reviews on here. He, unlike everyone else we called, came out with no upfront service charge, on a Saturday evening and fixed our clogged pipes for a very reasonable cost. We are keeping his contact info on file and definitely plan to make him our go-to guy. Highly recommend
Phill Howitt
Santa Monica, CA
Miguel Lopez did a great job re-plumbing the whole house. He also replaced the main water line from the meter to the house. The quality of his work is very high. He is dependable, on-time and honest. I would hire him again, for sure
I had a late night plumbing emergency (kitchen pipe & faucet leak; water everywhere). Miguel responded within the hour and delivered thorough top notch repair work as well as provided an estimate for additional plumbing repairs for my bathroom...couldn't have asked for a more professional experience
I recently had a Job for Miguel at New Pro Plumbing. My Washing Machine WATER valves needed Replacing and he arrived the same day, gave me a great quote and he went ABOVE AND BEYOND with his work and did a great job. I would recommend him for any Plumbing job.
We have been working with Miguel for more than 5 years. He is responsive to our requests and concerns, always responsible for his job. Highly recommended if you need plumbing work done right!
Very professional, friendly service. They were able to solve our problem quickly and effectively. Highly recommend!
Prompt and professional service - Miguel came out at the turn of a dime to fix my clogged drain and garbage disposal issue. It is typically difficult to find service for older garbage disposals and whatnot, but miguel was able to do it extremely quickly and definitely went the extra mile for us.
Our shower had a weird water pressure problem. Miguel came in, quickly figured out the problem and fixed the issue. The shower works perfectly now.
Quickest plumber we could find. They were there the next morning and got the toilets working again. Also no prepayment like some others do. Would call again in need.
Highly recommended. Miguel was very responsive and agreed to come within two hours in the evening to help us address the issue with our garden spigot. Once he arrived, he was friendly, professional and fixed the problem quickly. He also offered a few recommendations for other areas that should be addressed in the future. Much appreciated!
Miguel was amazing and responsive. Would recommend 100%! Kind, thoughtful and great service!!!!
My kitchen sink was overflowing on a Sunday and only New Pro Plumbing was able to come out and didn't charge me an emergency fee. Miguel came out and was very polite and courteous. My sink was connected to the main drain of my condominium so he had to hydro jet the whole drain using all of his 100 ft line. He explained everything he was doing to me so there were no surprises.
Response time was promptly and courteous. New Pro Plumbing replaced our 14-year-old heather and did a great job. Replace all necessary pipes and adjusted and/or fixed other minor observations. Miguel was kind enough in pointing out correction that needed to be made and corrected them. I would highly recommend New Pro Plumbing
OUR CUSTOMERS LOVE US !!!
Our customers are our highest priority. From the moment you first contact New Pro Plumbing, our courteous and friendly staff will take excellent care of you. We strive to keep our customers happy, and that means always trying to uphold the highest standards for our team of service professionals.  While other plumbing companies may offer similar services, we are simply the best, and all our plumbing services come with a personal touch.
Our plumbers will treat you with the respect you deserve, and provide the greatest attention to detail while working on your property. We keep you updated throughout the entire process and openly answer your questions and discuss all options and prices before starting the project. We treat your property just like you are part of the family because family is important to us. We stand behind our services, guarantee our work, including labor and products.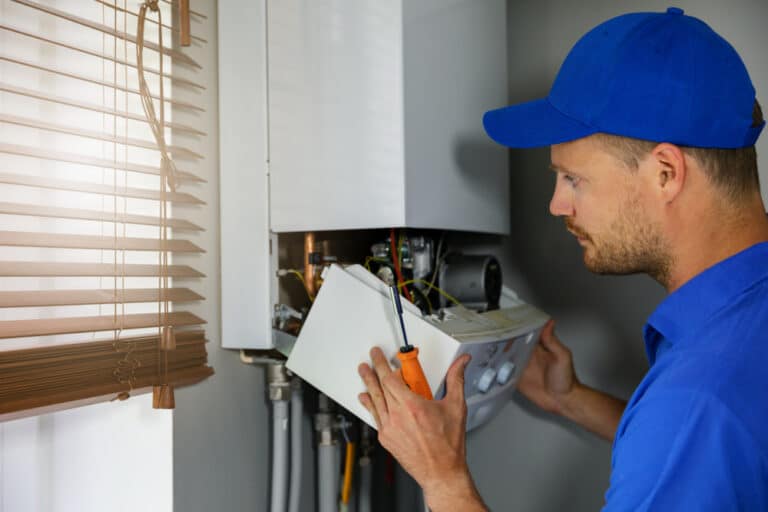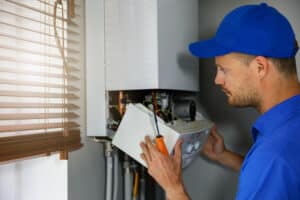 Your water heater is an integral component of your home's plumbing system, providing essential hot water for daily tasks such as showering, washing dishes, and
Read More »